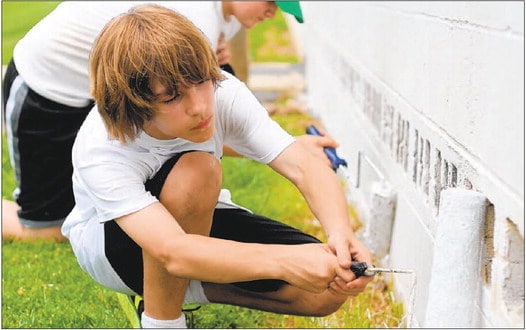 James Sahli, 12, paints a barn on Tuesday afternoon while volunteering with United Way at the Frederick Fairgrounds.
News-Post photo by Maggie McGill
United Summer Serve Youth Volunteer at Fair Grounds
Frederick News Post– June 24, 2015
By MARISSA HORN
It was only 10a.m., and youth volunteers at the Frederick Fairgrounds were already covered in dirt, grass stains and sweat in the 90-degree heat.
Despite Tuesday being the hottest day of the year so far, United Way volunteer Portia Strasburg said she was excitedto be working in the garden — a project that will last most of the summer.
"We are fixing up the garden out here, and I wanted tosign up for this because I want to help out the community and make it a better place," said Portia, a Walkersville Middle School rising eighth-grader.
With the guidance of United Way summer counselors, about 40 children weeded, replanted and watered the community garden tucked away between buildings on the fairgrounds.
The international nonprofit's Frederick chapter is one of 1,200 in the U.S. that providecommunity support through volunteering and fundraising locally, according to its website.
A rotation of volunteers and community members will care for the garden this summer, with its vegetables and fruits going to low-income local families, said garden owner Mike Dickson.
"We get to teach them about the agriculture and the biology and how life is created," said Dickson, who usually goes by Farmer Mike. "If we just put a little nurturing to it — it's just neat to watch the kids get excited about nurturing and maintaining the veggies and being able to eat them."
Come harvest time, volunteers and community members will learn how to use the fresh food in cooking classes at Dickson's nonprofit restaurant, Seed of Life Cafe in downtown Frederick.
"Seed of Life has about 45 different partnerships, and some of our major partnerships are with United Way, Habitat for Humanity and the fairgrounds," Dickson said. "This is one of our babies, which is coming along really well."
The community garden is just one of many projects that volunteers will be working on this summer, program director Lauren Haines said.
Partnerships with Habitat for Humanity, the Housing Authority for the City of Frederick, Catoctin Mountain Park, the Frederick County Sustainability Commission, and the Frederick Community Action Agency and food bank will host a total of 123 youth volunteers in projects that Haines hopes will give them exposure to a variety of skills over the summer.
"We actually have a waiting list," said Haines, now in her third summer with the program. "We filled up so fast. This is a good way for youths to get involved."
Joseph Liddiard, a rising freshman at Walkersville High School, became involved when his brother accepted an internship with United Way for the summer. Having always volunteered through his church and as a Boy Scout, he felt the need to continue working to better the community, he said.
"I love to help other people because [it's] just making a difference in other people's lives," Joseph said. "They're making Frederick a great place to live for everyone."
Interested in more news articles?
Check out other happenings and interesting news related to the Ausherman Family Foundation and Frederick County, MD.