Student Homelessness Initiative Partnership Awarded Focus Grant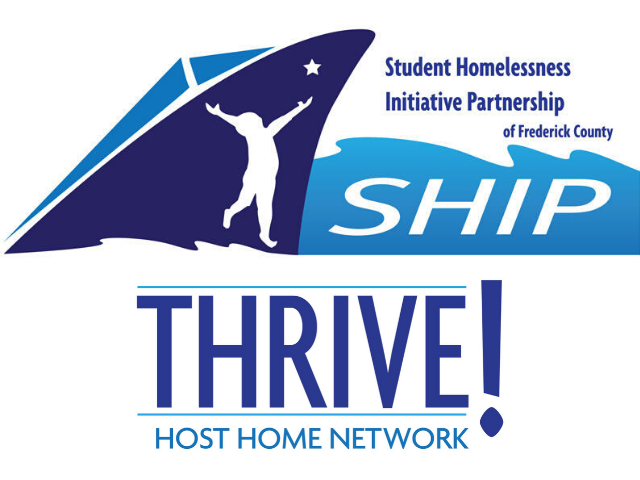 Did You Know…
By the end of the 2019-2020 school year, 942 students in Frederick County were considered youth experiencing homelessness
Since its inception in 2016, total enrollment for SHIP's New Horizons program exceeded 500 high school students
92% of New Horizons participants progress to the next grade or graduate from high school
Youth without a high school diploma or GED are 346% more likely to experience homelessness by age 21
Youth experiencing homelessness are 4.5 times more likely to experience homelessness as adults
Ausherman Family Foundation supported the Student Homelessness Initiative Partnership (SHIP) of Frederick County with a $300,000 Focus Grant over the next 5 years to support the reopening of the THRIVE! Host Home Network program.  These investments provide the THRIVE! program with the ability to expand the number of participating host homes to meet the anticipated higher demand for youth housing, and the support services provided to youth participants.
SHIP's mission to lift up Frederick County's homeless youth so that they can realize their best potential, complete their education, and be poised to break the cycle of poverty they find themselves in. THRIVE! works with volunteer hosts in providing a private room for youth age 16-22 while the young person accesses case management-led support services designed to move them towards self-sufficiency. All host homes are thoroughly vetted and trained in how to best support a young person staying temporarily in their home. Youth are expected to remain in their chosen host home from 1-6 months.
With the recent passage of a new Maryland state law granting unaccompanied homeless youth with the ability to consent to shelter themselves without the permission of a parent or guardian, SHIP expects to see increased demand for THRIVE! services from minors, especially for students enrolled in Frederick County Public Schools (FCPS). SHIP maintains a long-standing partnership with FCPS, and the majority of young people the nonprofit organization serves are referred to SHIP through FCPS personnel.
The THRIVE! Host Home Program gives individuals the opportunity to change the trajectory of a young person's life by opening their home while they work on a brighter future.Frederick County residents who wish to be considered as a host an unaccompanied youth in need of short-term housing can learn more about the THRIVE! program and apply here.
Focus Grants aim to help strengthen sound organizations and assist with new initiatives to achieve success in development and establishment of new programs. They are designed to be a three- to five-year commitment to help an organization get the project or program started while allowing them time to make it self-sustainable. For more information about Focus Grants, click here.
Interested in more news articles?
Check out other happenings and interesting news related to the Ausherman Family Foundation and Frederick County, MD.