Spanish Speaking Community of Maryland Receives Focus Grant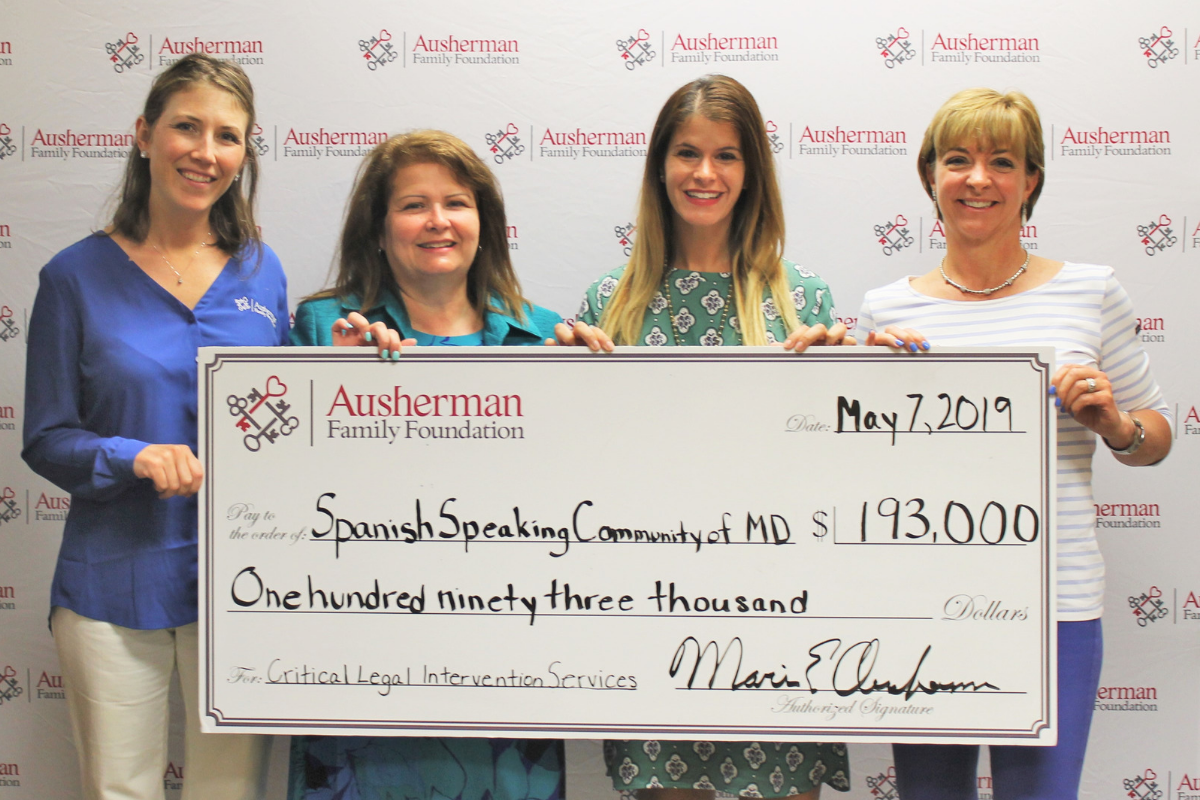 Pictured from left to right:
Ausherman Family Foundation's Executive Director, Leigh Adams, left, and Trustee, Renee Lopez, right, present a check Spanish Speaking Community of Maryland's Executive Director, Maria Herrera, center, and Program Director, Natalie Cioffi. The grant will fund Critical Legal Intervention for Frederick County Residents.
The Ausherman Family Foundation awarded Spanish Speaking Community of Maryland with a five-year Focus Grant in the amount of $193,000 to help fund Critical Legal Intervention Services for Frederick County's International Residents.
The Spanish Speaking Community serves Frederick's most vulnerable residents including victims of domestic violence, sex trafficking, neglect or any form of abuse. They remove language barriers for low-income, limited English proficient victims with translation in 60 languages so victims feel safe and empowered to leave their unsafe homes and relationships. The organization educates families so victims recognize signs of trouble and feel comfortable seeking assistance and reporting abuse.
A five-year Focus Grant from the Ausherman Family Foundation will enable SSCM to retain an attorney to address the wide range of family and immigration needs of Frederick County's growing international community. The grant will provide a cost-effective solution of services at an affordable, deeply discounted rate to low-income clients in desperate need of legal assistance to gain stability.
"The impact of this generous grant is tremendous and life-changing. Children will be able remain in school, become self-sufficient, and look forward to a vast array of opportunities that would otherwise would have only been a dream," said Natalie Cioffi, Program Director of the Spanish Speaking Community of Maryland.
These critical legal services, including asylum requests and applications for Special Immigrant Juvenile Status classifications, will reduce the number of Frederick County Public School's international student drop-outs, decrease homelessness, reduce gang affiliations and violence, and support self-sufficiency through academics and work permits.
The Spanish Speaking Community of Maryland has partnered with Frederick County Public Schools as well as several other organizations in the community.  The attorney will provide services to referrals from FCPS staff as well as Heartly House, the Student Homelessness Initiative Partnership of Frederick County (SHIP), Frederick Memorial Hospital's Forensic Division, the Frederick County Child Advocacy Center, Social Services, and the Frederick Community Action Agency.
Focus Grants are invitation only. General Grants are open for application year-round and are awarded to cover program, project, and operating costs. Grants may be awarded with or without a challenge matching funds component. For more information about General Grants or to apply, click here.
Interested in more news articles?
Check out other happenings and interesting news related to the Ausherman Family Foundation and Frederick County, MD.