Alderman OK Rezoning for Planned Women's Shelter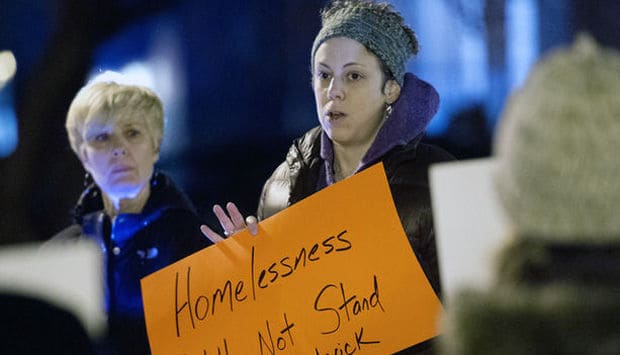 Katie Nash leads a vigil Thursday outside Frederick City Hall before a meeting in which the proposed Faith House shelter zoning would be considered.  
By Laura Dukes News-Post Staff | Posted: Friday, January 16, 2015, 2:00 am
The Frederick City Board of Aldermen voted 4-1 to rezone a building that will be used for Frederick Rescue Mission's new shelter, Faith House.
The vote was taken at about 12:15 a.m. today with Aldermen Michael O'Connor, Josh Bokee, Phil Dacey and Alderwoman Kelly Russell in favor. Alderwoman Donna Kuzemchak opposed.
"I know they'll run it right," Dacey said.
Dacey initially failed to pass an amendment stating that the shelter should have the intent of filling a need for housing for women and children. This is the population the Rescue Mission has said Faith House will serve. Dacey also failed to pass an amendment stating that the shelter should have no more than 22 people in its main house and 56 people in the adjoining apartments.
Kuzemchak said she knew there was a need in the community, but didn't think the shelter that ultimately passed would fill it.
"I don't think this is going to do what we expect it to do," she said. "I think this is a Band-Aid on a much deeper problem."
The shelter is proposed by the mission to house women and their children ages 12 and younger. The women would work with case managers and have 90-day plans to work on issues such as addiction, employment, life skills, health and spirituality. The plans could be extended by 90 to 180 days if significant progress is made. They would go through random drug tests and extensive background checks, according to Arnold Farlow, the mission's executive director.
Thursday's meeting started with nearly 2 1/2 hours of public comment. Twenty-three of the comments were in favor of the shelter. These comments stated that the need for a shelter for women and children was immediate. They praised the Rescue Mission and Farlow for having a successful record for the organization's current program for men.
Nine of the public comments were negative. The majority of these comments were from neighbors of the proposed shelter. Many of the neighbors felt they had yet to hear a concrete business plan from the shelter.
Frederick Rescue Mission personnel said the shelter would be used for women and children, even if zoning language could not require that. The mission's attorney, Krista McGowan, said its main building would have between 15 and 25 clients.
Faith House is proposed to be housed at 731 N. Market St., the building currently owned by the Interfaith Housing Alliance. With the location now zoned as institutional, the Rescue Mission plans to settle on the building's sale. The alliance plans to move to a new location in Frederick.
"The community wants Faith House, and they trust the Frederick Rescue Mission," Farlow said. "If not here, then where?"
Frederick Mayor Randy McClement was absent from the meeting.
Interested in more news articles?
Check out other happenings and interesting news related to the Ausherman Family Foundation and Frederick County, MD.