Public Art Plan For County Unveiled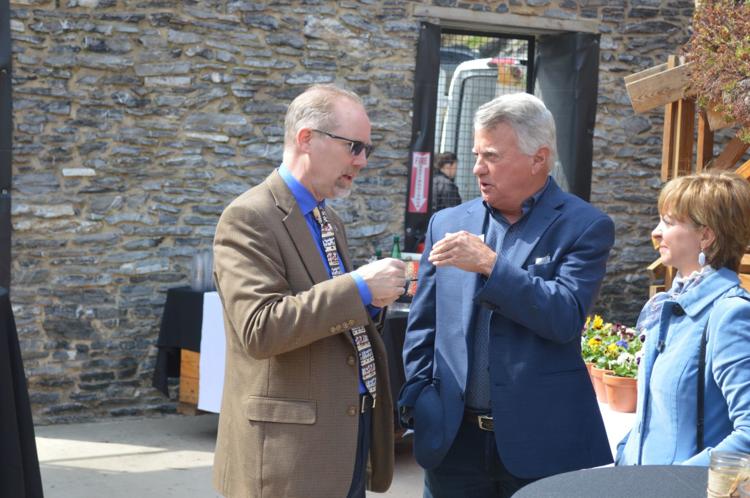 Pictured: Frederick Mayor Michael O'Connor, left, and Marvin Ausherman, of the Ausherman Family Foundation, talk Thursday at the unveiling of the Frederick Arts Council's Public Art Master Plan.
Photo By: Ryan Marshall, Frederick News-Post
By: Ryan Marshall, Frederick News-Post
April 4, 2019
An ambitious new strategy will seek to create public art throughout Frederick County, under a plan released Thursday.
The Frederick Arts Council's Public Art Master Plan unveiled in a ceremony at the Sky Stage in Frederick is a foundation for the launch of a thorough public arts plan for the county, said Louise Kennelly, executive director of the Frederick Arts Council.
The plan would divide the county into various creative zones, which will each represent a place or narrative in the county, to help connect residents and increase a sense of community in the county.
"The idea of a countywide project, connecting city and county, urban and rural, and the various towns and villages in Frederick [County], is perhaps the most powerful idea that emerged in the public art planning process," according to the plan's introduction.
The creative zones include the Carroll Creek and Rock Creek corridors; downtown Frederick; the East Street corridor; Frederick's Golden Mile; planned communities such as Lake Linganore and Urbana; the county's various municipalities and villages; farms, countryside, and the food economy; and historic Frederick.
Public art is important to having a sense of community and for economic development, County Executive Jan Gardner (D) said at Thursday's ceremony.
Everyone wants to feel they belong, and public art helps create a sense of community and belonging, Gardner said.
Frederick Mayor Michael O'Connor praised the new plan as the culmination of two years of hard work by many different people.
Some of the most interesting communities he's visited have been places with strong public art, O'Connor said.
Many people think of public art as just statues or murals, Kennelly said, but she hopes the new plan can create different standards and make the process of creating art more participatory.
Marvin Ausherman, whose Ausherman Family Foundation was the lead sponsor of the initiative, said the plan's purpose was to create a plan for the development of public art.
Art can be controversial, and the community can't be disrupted even as art is developed, Ausherman said.
Tony Owens, an artist who has done a number of projects in Frederick, said the city's population feeds the spirit needed for the artistic process.
"Frederick is filled with artsy, creative people. It is absolutely endless," Owens said.
Interested in more news articles?
Check out other happenings and interesting news related to the Ausherman Family Foundation and Frederick County, MD.