Nonprofit Provides Temporary Housing, A Lifetime Of Skills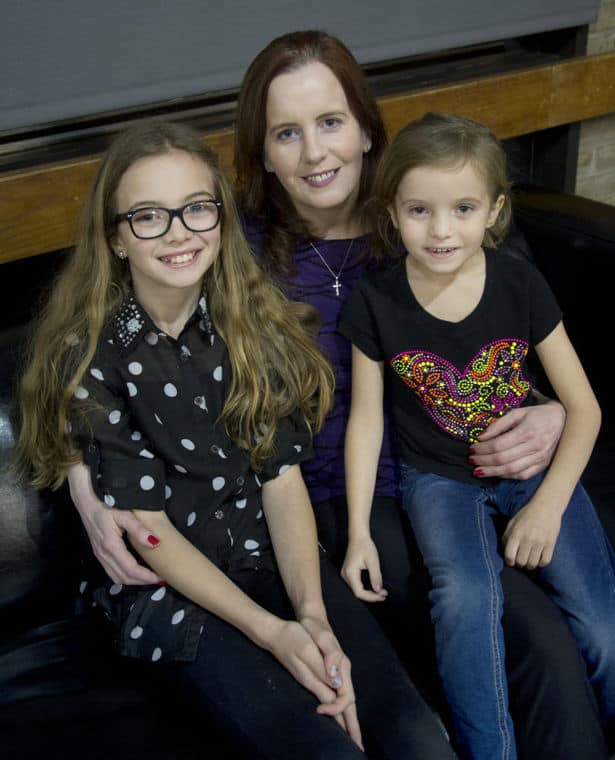 Staff photo by Sam Yu
Mandie Otto, of Frederick, is shown recently with her daughters, Haille, 10, and Stella, 6. Otto was helped by the Advocates for Homeless Families transitional housing program.
Posted on Jan 26, 2015 by Laura Dukes ldukes@newspost.com
Follow Laura Dukes on Twitter: @LauraDukesFNP.
More Information
Advocates for Homeless Families Inc.
216 Abrecht Place
Frederick, MD 21701
301-662-2003
kallread@afhf88.org
The organization serves about 90 to 100 children and adults served each year.
Advocates for Homeless Families' mission is to empower motivated Frederick County families to overcome or avoid homelessness. Families achieve success through a structured two-year program of education, housing and support services.
The 27-year-old nonprofit Advocates for Homeless Families has served more than 2,000 adults and children in Frederick County, providing transitional housing and long-term plans to get out of or avoid homelessness.
Ken Allread, the organization's executive director, said the transitional housing program provides two-year plans to assist people gaining at least public housing or Section 8 assistance. The houses they provide are not leased, but clients do pay a housing fee of 30 percent of their income or up to $300 a month. Advocates pays for utilities and parking, in addition to furnishing the houses.
The organization owns 11 properties, in addition to three rentals and another that a church donated. They are scattered throughout the county, Allread said.
To be accepted into the program, people are usually referred from a shelter or other transitional housing, he said.
All applicants meet with a case manager and have a panel review. During these reviews they are assessed on factors such as willingness to work, go to school, and be responsible tenants and good neighbors, Allread said. The neighbors of these properties always know about the transitional housing situation.
Frederick Mayor Randy McClement lived next to one of the properties and said it was no different than having any other neighbor.
"They are well aware of our mission," Allread said of the people who live near Advocates properties. "We help people in great need. There's definitely a lack of affordable housing."
There is a waiting list of about 80 people for the program.
Receiving the housing requires more than paying a fee, Allread said. All clients have a specific plan and monthly milestone targets meant to assess their progress. These targets might be passing a tenancy inspection, attending a life skills class or contacting the school system's homeless coordinator.
Clients follow a curriculum of classes including finance and budget; health and wellness; parenting and interpersonal relationships; and independent living.
Random drug testing is also part of the program, Allread said.
"We want them off the couch and working on their recovery from homelessness," he said. "We expect them to practice what they learn."
In return, Advocates assists clients with incentives including gas cards, bus passes, money for textbooks and cars from Second Chances Garage.
Children are given school supplies, backpacks, and parties for good report cards. The organization also pays for fun activities like summer camp, teams, swimming lessons and the Boys & Girls Club.
"The program is holistic. We embrace the whole family," Allread said.
Mandie Otto, of Frederick, was a client in the transitional housing program from May 2010 to May 2012. At the time she had a children attending prekindergarten and a toddler. She said the most helpful component of the program was the case management and the relationship the organization has with Frederick County Public Schools.
Through the program, Otto was able to keep her job at a sandwich shop, while going to school at night to get a degree to become a probation officer. She also worked with a case manager to write her résumé.
"It's been pretty awesome," Otto said.
She lives in a Section 8 town house and still attends life skills classes. She works with a case manager, but not as frequently.
"I check in with her for pretty much any major life decision I plan on making," Otto said.
Interested in more news articles?
Check out other happenings and interesting news related to the Ausherman Family Foundation and Frederick County, MD.