News Article On Frederick Co. Coalition For Homeless Committee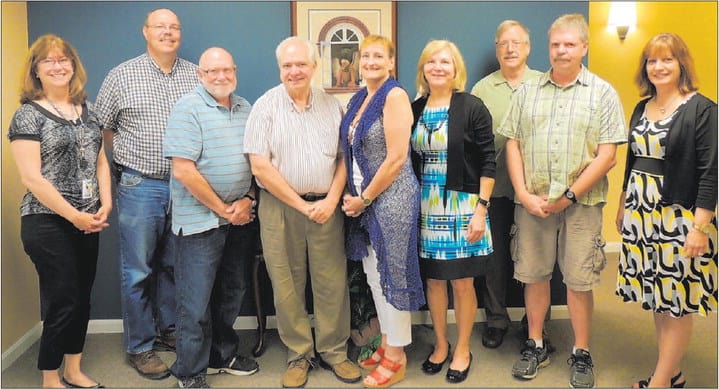 Members of the Frederick Co. Coalition for Homeless include, left, Pat Rosensteel, Todd Johnson, Ken Allread, the Rev. Brian Scott, Dr. Inga James, Dr. Joyce Heptner,Robert Pitcher, Mike Spurrier & Elizabeth Y. Day
Frederick News Post | Tuesday, August 12, 2014
Strategic plan developed to combat homelessness
FOR THE FREDERICK NEWS-POST In an effort designed to promote collaboration, sharing of ideas, new resources, and prevent duplication of effort, the Frederick County Coalition for the Homeless (FCCH) was formed and has been meeting monthly since 1983. A strategic planning committee of the FCCH was formed in 2012, and has developed a 10-year plan to combat and significantly reduce homelessness in Frederick County.
Strategic plan goals include increasing the current status of affordable permanent housing options, identifying best practices in homelessness prevention programs so that the number of working families spending more than 30 percent of their income on housing is decreased, increasing shelter and service capacities within the continuum of care, and sponsoring an annual forum for all facets of the community to address issues around homelessness and to encourage collaboration and positive change.
To assist with review of the strategic plan goals, develop action plans and collect data to support each goal, OrgCode Consulting Inc., has been contracted to work with the FCCH strategic planning committee beginning in July. OrgCode Consulting brings more than 30 years experience in housing and homelessness service system delivery and design, and are considered "performance improvement specialists"by the National Alliance to End Homelessness.
The contract with OrgCode Consulting is made possible by an FY2014 unrestricted grant from The Community Foundation of Frederick County and a grant from Housing and Urban Development (HUD).
Strategic planning committee members include the Rev. Brian Scott, The Religious Coalition for Emergency Human Needs; Arnold Farlow, Frederick Rescue Mission; Ken Allread, Advocates for Homeless Families; Dr. Inga James, Heartly House; Mike Spurrier, Frederick Community Action Agency; Robert Pitcher, Mental Health Management Agency of Frederick County; Todd Johnson, chairman, Frederick County Coalition for the Homeless; Elizabeth Y. Day, The Community Foundation of Frederick County; Dr. Joyce Heptner, Ausherman Family Foundation; Josh Pedersen, United Way of Frederick County; and Pat Rosensteel, Frederick County Citizens Services.
Interested in more news articles?
Check out other happenings and interesting news related to the Ausherman Family Foundation and Frederick County, MD.