Maryland's First Lady, Yumi Hogan, Visits Frederick Art Scene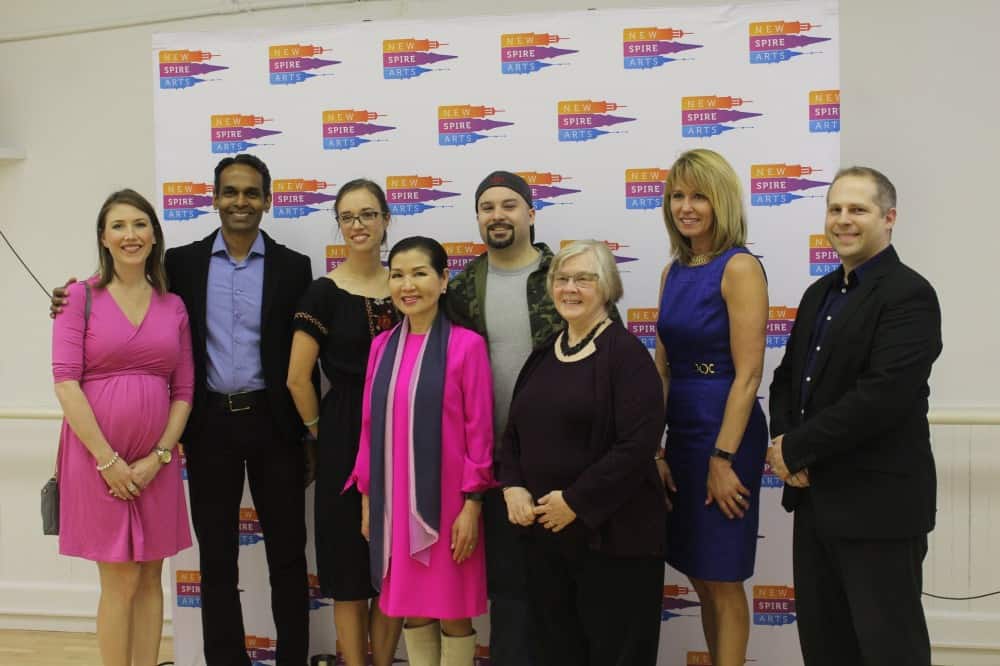 Pictured: Ausherman Family Foundation Executive Director Leigh Adams, New Spire Arts Executive Director Daniel Singh, Poet Jacquelyn Bengfort, First Lady of Maryland Mrs. Yumi Hogan, Comedian Michael Carrasquillo, founder of The Arts & The Military Tara Tappert, Secretary Kelly Schulz, Department of Labor, Licensing, and Regulation, New Spire Arts Education Director Julian Lazarus
Ausherman Family Foundation hosted Mrs. Yumi Hogan, Maryland's first lady as well as Secretary Kelly Schulz, Department of Labor, Licensing, and Regulation, to tour Downtown Frederick's art scene on Friday, April 13. The Ausherman Family Foundation partnered with the Delaplaine Foundation as well as several other organizations including New Spire Arts, The Frederick Arts Council, the Asian American Center of Frederick, VOLT Restaurant, Platoon 22, and The Arts & The Military. The tour included several arts organizations which are supported by the Ausherman Family Foundation including New Spire Arts, Sky Stage and the Delaplaine Arts Center.
New Spire Arts co-hosted an opening event for an April-June veteran spotlight art exhibition entitled "To Honor and To Serve: The Arts and the Military" featuring artwork by United States Veterans from the ART/Ifacts National Collection.  Mrs. Hogan also enjoyed two performances by local veteran artists, Jacquelyn Bengfort and Michael Carrasquillo, who will both return for a Veterans Open Mic event on May 22 at New Spire Spaces. Mrs. Hogan shared how special these performances were because her daughter and son-in-law are both veterans.
The art exhibition will be on display at both New Spire Spaces and VOLT Restaurant through June 3.
For more information, check out WDVM's coverage of the event: http://www.localdvm.com/news/i-270/marylands-first-lady-spends-afternoon-in-downtown-citys-local-art-scene/1120929744
Interested in more news articles?
Check out other happenings and interesting news related to the Ausherman Family Foundation and Frederick County, MD.