July Executive Director Breakfast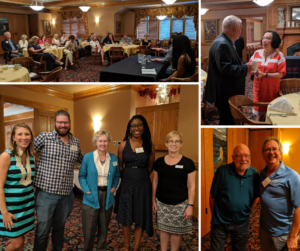 Guest speaker Kevin McHugh from the Helen J. Serini Foundation and Yinka Bode-George from Maryland Philanthropy Network presented the importance of the 2020 Census at the July Executive Director Breakfast hosted by Ausherman Family Foundations. Nonprofit leaders discovered how results are critical for federal funding and the role nonprofit organizations could play in the complete count. Kevin and Yinka shared resources regarding the census:
Resources from the State of Maryland:

Complete Count Committees – "Complete Count Committees" (CCC) are volunteer committees established by tribal, state, and local governments and community leaders or organizations to increase awareness and motivate residents to respond to the 2020 Census. CCCs serve as state and local "census ambassador" groups that play an integral part in ensuring a complete and accurate count of the community in the 2020 Census." Read more about Maryland CCCs on the State's 2020 Census Complete Count Committee Guide
State Census Grant – The State of Maryland awarded $4.1 million to 36 recipients for census outreach.
For more Census information and resources from the State of Maryland, visit www.census.maryland.gov 
Interested in more news articles?
Check out other happenings and interesting news related to the Ausherman Family Foundation and Frederick County, MD.