Hood College Student, Faith Kiser, Appointed to Board of Trustees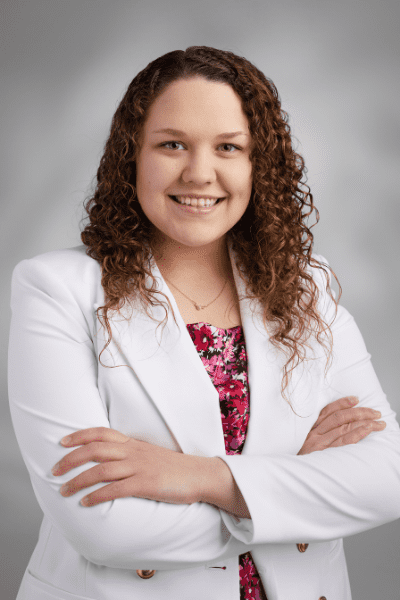 Faith Kiser, Hood College Student Member of the Board of Trustees
There is a new face on the Ausherman Family Foundation Board of Trustees. This year Faith Kiser was nominated as the second college student member of the board. This partnership between the Ausherman Family Foundation and local colleges began in 2020 with the first appointed member, Caylee Winpigler. The partnership provides students with an interest in the philanthropic and nonprofit sector with hands-on experience as a Trustee. It also helps to ensure a diverse voice is added to the Foundation's Board of Trustees.
Faith, who is originally from North Carolina, brings to the board a unique and extensive experience in the nonprofit sector. Part of her nonprofit engagement has been inspired by her own classical training as an opera singer. This led her to volunteer as the assistant choir director for an after-school youth program in North Carolina, perform for the Edgecombe County Veterans' Museum, and perform for the Edgecombe County Arts Council. She has been recognized for her singing with awards from the National Association of Teachers of Singing (NATS) and by the Distinguished Young Women (DYW) program.
In 2020, Faith graduated from North East Carolina Prep School as the Valedictorian and graduated Suma Cum Laude from Isothermal Community College with a certificate in Business Administration.
Although North Carolina is about a five-hour drive from Hood, Faith fell in love with the college after being introduced to it through the Distinguished Young Women (DYW) program. Back home in North Carolina, she was the DYW for 2020 and is currently working with the Maryland DYW. She feels this is a meaningful program that broadens the horizons for many young women.
Now at Hood College, Faith continues to immerse herself in her surroundings through opportunities to work with others and volunteer. Some of Faith's accomplishments from her time at Hood include President of Alpha Lambda Delta (ALD), Peer Mentor & Leader, Honors Program member, and Maryland Collegiate Honors Council Conference (MCHC) presenter. Her Peer Mentor position led her to have a crucial role in one of Frederick's signature events – Sailing Through the Winter Solstice. Faith helped to design the boat for Hood College in 2021. And if her life did not seem active enough, she is on the women's swim and tennis teams!
At Hood, she is majoring in accounting and minoring in music with a concentration on vocal performance. She hopes to leverage these educational experiences by finding a career in international business focusing on logistical accounting and trade. Another idea she is considering is to do international logistic management for the nonprofit sector. Faith hopes to pursue her master's degree and is optimistic about the future saying, "I like to take opportunities as they come. Wherever I land, I know I will make the best of it!"
The Ausherman Family Foundation is proud to welcome Faith to the board of trustees and believes that her robust nonprofit experience will help enhance the board dynamics.
Interested in more news articles?
Check out other happenings and interesting news related to the Ausherman Family Foundation and Frederick County, MD.