Gayon Sampson, IDEA Committee Member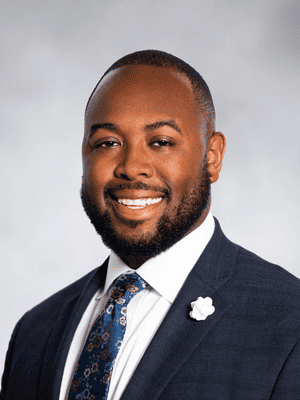 Gayon Sampson,
IDEA Committee Member
Currently, Gayon serves as Senior Advisor to the Mayor of the City of Frederick, being appointed to this position in July 2018.  Prior to joining the City of Frederick, Gayon served as community outreach advisor in the Office of Government and Community Affairs at Johns Hopkins University & Medicine. Prior to joining Johns Hopkins, he was employed as a policy associate at the Greater Baltimore Committee, where he specialized in education and workforce policy. In addition, he has experience working both on Capitol Hill and for the Maryland General Assembly.
Gayon served on the staff for Baltimore Mayor Catherine Pugh's transition committee. Prior to this, he was appointed by Maryland Governor Martin O'Malley to positions on the Governor's P-20 Leadership Council and to the Maryland State Board of Education. He has also served as President of the University System of Maryland Student Council, Chair of the Maryland Youth Advisory Council, and on the Maryland Higher Education Commission Student Advisory Council.
His service in these organizations has instilled in him a deep appreciation for a strong public school system and the belief that student involvement is critical for all communities. As a result of Gayon's work, he has received a number of awards and distinctions, including "Towson University Emerging Student Leader," "Black Frederick Rising Star," the "NAACP Youth Award of Excellence," and the "Eliminating the Achievement Gap Man of Distinction Award."
As an eighth generation native of Frederick County, Gayon is very active in the community. He serves on the boards of AARCH and WYPR Broadcasting. As well as a member of Alpha Phi Alpha Fraternity, Inc. and Sons of the American Legion. Gayon earned his bachelor's degree in political science from Towson University and his master's degree in public administration from the University of Maryland, College Park School of Public Policy.
Interested in more news articles?
Check out other happenings and interesting news related to the Ausherman Family Foundation and Frederick County, MD.