Food Coordination with Frederick Rescue Mission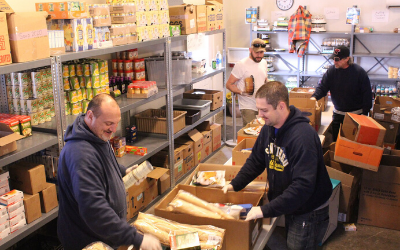 Frederick Rescue Mission volunteers prepare items in the distribution hub for food delivery programs.
Food insecurity was identified as one of the most critical needs during the COVID-19 Crisis. A $50,000 General Grant was awarded to the Frederick Rescue Mission to enable them to coordinate efforts with food banks throughout the County.
In partnership with Ausherman Family Foundation, The Rescue Mission and other nonprofits, funders and government agencies worked to help coordinate the distribution and provision of food to meet the growing need.
Food insecurity has always been an issue in Frederick, yet COVID shed light on this need and only intensified the demand. Thanks to the collaboration of many organizations, the way our community distributes food to the hungry has been enhanced with greater efficiency.
Interested in more news articles?
Check out other happenings and interesting news related to the Ausherman Family Foundation and Frederick County, MD.