FCPS Pilots Vision Program at Two Schools
Press release by the FCPS Public Affairs Department.
Frederick County Public Schools partnered with several businesses and non-profits to bring vision care services directly to students at two elementary schools for no associated costs.
During the 2022-23 school year, Hillcrest Elementary and Waverley Elementary launched a pilot school-based vision program that helped identify children who may need eyeglasses or treatment for an eye condition.
"We are deeply appreciative of many partnerships who helped make this opportunity for our students and families possible," FCPS Superintendent Dr. Cheryl L. Dyson said. "By identifying potential vision challenges and providing glasses, students will literally see their world differently."
One in four children may struggle to see clearly in school, impacting their learning. Vision screenings and eye exams help identify children who may need eyeglasses or treatment for an eye condition, but not all students are able to access these resources. Studies also show as many as 40 percent of these children fail their initial eye exam.
The school-based vision program at Hillcrest and Waverley brings vision care services to children directly at their schools, with no associated cost to the students. The program is a collaboration between FCPS, the Frederick County Health Department; Vision To Learn, a national non-profit optometric provider; Warby Parker, an eyeglasses retailer; and Johns Hopkins University.
Financial support for the program was provided by the Ausherman Family Foundation and the Kahlert Foundation.
The pilot program provides vision screenings and, when necessary, eye exams and eyeglasses to over 1,000 kindergarten-fifth grade students. Vision screenings began in November. In December, Vision To Learn's mobile exam clinic came to the schools to conduct eye exams for students who have opted to participate in the program. After the exams, students who require eyeglasses will choose their frames. Within a few weeks, the eyeglasses will be delivered to the schools, where an optometric provider will fit students with their new eyeglasses.
"Being able to see clearly directly correlates to a child's ability to understand and respond to what they are being taught, and glasses for a child who needs them, means not having to work harder to learn," Ausherman Family Foundation Executive Director Leigh Adams said. "We are incredibly grateful for the Vision to Learn team for piloting this transformative program in Frederick County and are happy that we have been able to help give so many of our youngest citizens have the benefit of clear sight."
"The Kahlert Foundation has witnessed the positive impact that in-school eye exams have had on children in Baltimore City," said Executive Director Ellen Myers. "We were thrilled to extend our support to implement this program in Frederick County. Every child deserves to see clearly to learn, play and be healthy."
"Vision To Learn is pleased to be expanding our Maryland program to provide vision services to students in Frederick County," said organization President Ann Hollister. "Every child, in every school, everywhere in the country should have the glasses they need to succeed in school and in life."
The program partners hope to expand the program to other FCPS schools based on their experiences from operating the pilot this year.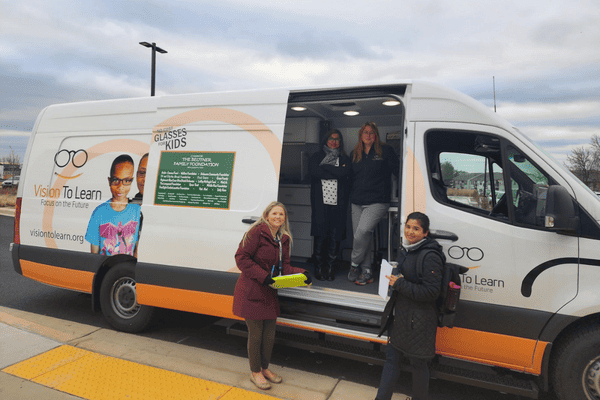 Interested in more news articles?
Check out other happenings and interesting news related to the Ausherman Family Foundation and Frederick County, MD.