Empowering Community Leaders Network Student Places Third in Chords of Courage Contest!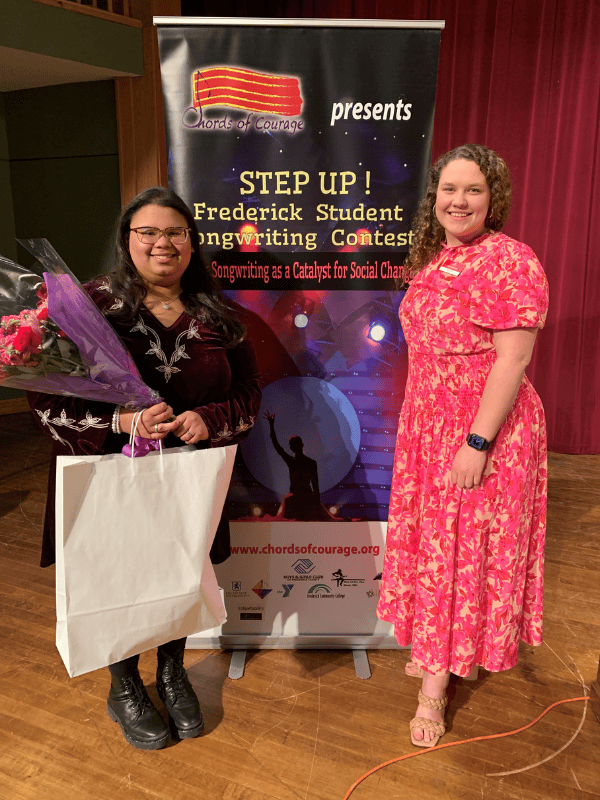 ​Breanna Brea is a ninth grader at Walkersville High School, but she moved to Frederick when she was in the sixth grade. After moving to Frederick, Breanna wanted to connect and find ways to make friends, so her mother encouraged her to join Empowering Community Leaders Network (ECLN). ECLN is an after-school program for female middle and high school students. This nonprofit organization provides educational and cultural enhancement opportunities that foster leadership development in middle school girls. Once Breanna joined the program, it helped Breanna break out of her shell and make new friends.
Phyllis York, the Executive Director of ECLN, recognized Breanna's passion and engagement with the group and recommended she enter the Chords of Courage songwriting contest. Chords of Courage is another youth-serving organization that helps youth to develop and write their own songs. The songs are written about inspiring and motivational people that bring a positive change to the world. These songs are then performed at an annual concert, and the top 3 are selected for prizes. This year Breanna participated and placed third in the contest!
Faith Kiser, a trustee of the Ausherman Family Foundation who also has a background in singing opera, attended the concert on March 17 and handed out the award. Coincidentally, Breanna and Faith had met before! Earlier that same week, Breanna had come to Hood for a tour, and Faith was her tour guide.
With her award in hand, Breanna is looking forward to the future, where she aspires to attend college to be Secretary of State one day. In that position, skills from her time at Chords of Courage and ECLN will be invaluable. Congratulations Breanna!
Interested in more news articles?
Check out other happenings and interesting news related to the Ausherman Family Foundation and Frederick County, MD.