Community Baby Shower for Information to Educate Mothers about Health, Nutrition and the Community Resources Available to Them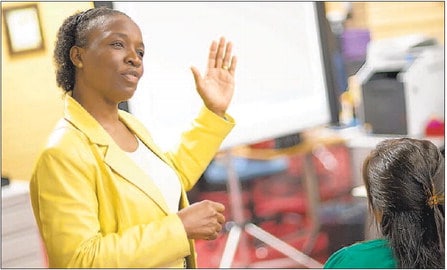 Laure Nganmo Hean addresses a group of expectant mothers Saturday on the dangers of smoking and consuming alcohol while pregnant during a Community Baby Shower at the Asian American Center of Frederick.
Sunday, 31 August 2014 – FNP Article
The Ausherman Family Foundation has supported RISE, a project of the Carroll Creek Rotary Club in partnership with many other Frederick County organizations since its inception.  RISE's purpose is to provide mentors and, through networking, find gainful employment for motivated individuals living in Lucas Village.  Laure Nganmo Hean, in this article and a new employee of the Asian American Center of Frederick, is one of many of RISE's success stories.
Expectant mothers learn, celebrate
Saturday's baby shower in an office on West Patrick Street had food, presents and games — all the typical ingredients of these celebrations.
What made this party different was the wealth of information new and expectant mothers received courtesy of the Asian American Center of Frederick. For the past few months, the center has been organizing these community baby showers as a way to educate mothers about health, nutrition and the community resources that are available to them.
"This program is really important, and we want to give it as often as we can," said Laure Nganmo Hean, community health educator with the center.
Hean spoke to the group of about 30 mothers and family members about the dangers of smoking or drinking alcohol during pregnancy and about the advantages of breast-feeding.
In the months since the parties have begun, the center has started receiving donations of fresh produce, toys and clothes for the mothers, said Irasema Hover, a center volunteer. One woman even knitted caps and blankets to give away at the showers, Hover said.
"Normally, at a baby shower, you bring a gift. Here, we give the gifts," she said.
Hean said some pregnant women have come to the parties with little knowledge of how to care for their babies.
"Now, they say they are much more prepared. And we are always available to help," Hean said.
Hover said one woman learned how to cook for her child during the events. The woman couldn't afford organic baby food but didn't want to feed her child what was available at the store. Volunteers showed her how to puree fresh ingredients to fix nutritious meals for her baby,
---
Hoover said most mothers already understand that smoking or drinking alcohol during pregnancy is harmful. However, the presentations act as a helpful reminder.
In addition, many women were also unaware that they are eligible to receive certain community services, Roque added. Pamphlets from a number of service providers are available during the parties. Hean said the center workers also gather contact information from attendees to allow for follow-up.
Though the Asian American Center focuses on improving the lives of minority groups in the Frederick area, Hover said the showers are open to all new and expecting mothers. She also said the center is hosting a health fair Oct. 18 to provide free medical services and consultations to members of the community.
---
By BETHANY RODGERS News-Post Staff
Follow Bethany Rodgers on Twitter:@BethRodgersFNP.Staff  photo by Graham Cullen brodgers@newpost.com 
Interested in more news articles?
Check out other happenings and interesting news related to the Ausherman Family Foundation and Frederick County, MD.