Downtown Street Scape Study
On November 8, 2021, the Downtown Frederick Streetscape Study published a report based on discoveries from multiple community forums and a public survey which received 1,932 responses. The Streetscape Study was initiated to respond to the street usage and needs after the pandemic. During the pandemic, outdoor dining and leisure activities were popularized as restaurant and retail store capacities were limited.
The Streetscape Study is analyzing Market Street between South and 7th Street and Patrick Street between Bentz and East Street because these are the most condensed areas of commercial locations in the city. In these areas, there are 60 feet between store fronts across the street from one another. The sidewalks are 12 feet wide; the parking stalls are each 7 feet wide; and the driving lanes are 11 feet each. With this in mind, the Streetscape Study is seeking to optimize the usage of this space and improve its current functionality, maintenance, and appearance – a holistic approach.
The survey results of the 1,932 people that responded provided feedback on the feelings of the community:
65% want more outdoor dining options
56% want unobstructed pedestrian zones
49% want enhanced lighting
Other considerations of the community and the study include treescape and public transportation. Currently many trees in downtown Frederick have extensive root structures that are tripping hazards for pedestrians but also are causing fissures in the sidewalk and trees are decaying without proper soil treatment. The solution to this is to replant old trees that can be saved and strategically plant new trees within the upcoming streetscape design.
Public transportation was another concern because Frederick TransIT travels down these streets. In fact, the Square Corner receives 30 boardings per day. Thus, the results of the study need to accommodate bus needs such as having two-lanes of traffic, ADA accessible equipment and street ways, and spaces for buses to pick up and drop off clients at their destinations.
Moving forward, more review is needed on key aspects of the streetscape including what impact a concept plan may have on traffic, parking, and the surrounding area. As the streetscape study moves to conceptualize the feedback it has received, it will be crucial to have multiple designs with which to explore the feasibility of the downtown corridor.
If you are interested in learning more about this project, read the full report below or available on the Downtown Frederick Partnership's website. Stay tuned as well for an upcoming presentation on these findings by the consultants and other key players in the project.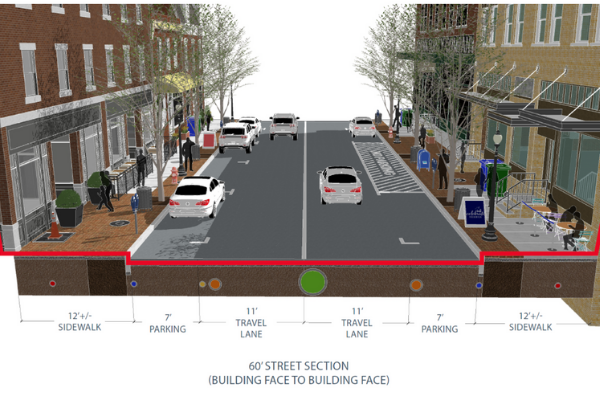 Interested in more news articles?
Check out other happenings and interesting news related to the Ausherman Family Foundation and Frederick County, MD.