Achieving Health Equity in Frederick
The Frederick County Health Care Coalition (FCHCC) is a nonprofit organization created in 2006 that manages the county's Local Health Improvement Process (LHIP) in close collaboration with the Frederick County Health Department, Frederick Health, and many community partners.
The primary method through which FCHCC accomplishes this is through producing a Local Health Improvement Plan (LHIP). A LHIP is more than just a document. It provides the central framework for accountability, local action, and public engagement among the major public health stakeholders in the community – Frederick County Health Department and Frederick Health Hospital and a variety of County agencies and community nonprofits — to advance the health of all Frederick County residents. Positive health outcomes provide the foundation for a thriving community and economy. As FCHCC has recently published a new Community Health Needs Assessment report, and created a new LHIP for Frederick County, they will be utilizing those resources to address health equity systemically and reduce health disparities in our community over the next three years and beyond. This project takes our community a significant step towards addressing the critical health crisis of the impacts of racism in our county, and would establish the foundation from which future change would be possible by accomplishing the following
Infusing the lens of health equity throughout the LHIP and workgroup implementation plans for
addressing the recently identified public health priorities of Adverse Childhood Experiences (ACEs),
Type 2 Diabetes and Mental Health
Provide greater opportunities for diverse parts of our community to participate in the health
planning process at all levels from the board to the workgroups
Ensure that the LHIP Public Health Priority Workgroups and the FCHCC board are using effective and
research-tested strategic communications to address health equity systematically
Provide both critical administrative support and implementation funds for each LHIP Public Health
Priority Workgroup
Prepare and execute a mass marketing and communications plan for ensuring Frederick County
residents are aware of and have access to the health solutions produced by the LHIP Public Health
Priority Workgroups to reduce health disparities
A recent Network Grant by the Ausherman Family Foundation will match County funds to help provide the back-end support, training, and administration functions. This support will allow for LHIP Workgroups to develop and implement initiatives that focus on health disparities and result in increased health equity in the county. In addition, this project purposefully includes representation from historically underserved, marginalized, and adversely affected groups to amplify their voices in this work.
The mission of the Coalition is to improve wellness and resiliency to equitably impact the lifelong health of all Frederick County residents.
Local Health Improvement Process
Assess health of community
Determine priorities for health improvement
Create plan which includes implementing programs or policies
Evaluate and share the impact of programs or policies
Repeat cycle
​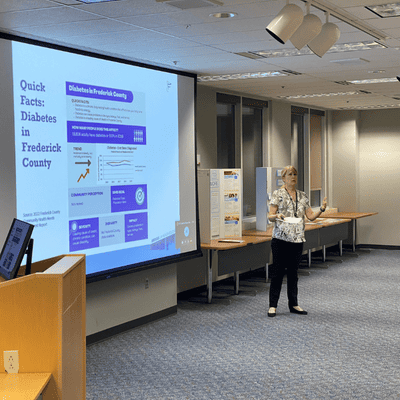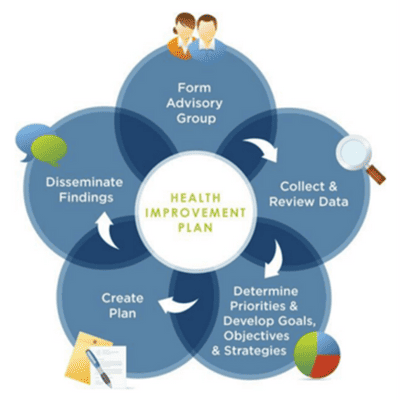 Interested in more news articles?
Check out other happenings and interesting news related to the Ausherman Family Foundation and Frederick County, MD.